My Blog
Posts for: September, 2019
By Stoller Dentistry
September 14, 2019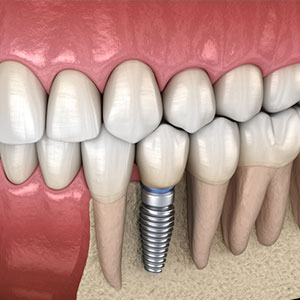 Among dental restorations, implants are the closest prosthetic we have to real teeth. They not only replace the visible crown, but the titanium post imbedded in the jawbone adequately substitutes for the tooth root. Because of their unique design, implants are not only life-like, they're highly durable and could potentially last for decades.
But while their success rate is remarkably high (more than 95% exceed the ten-year mark), they can fail. Ironically, one possible cause for implant failure is periodontal (gum) disease. Although an implant's materials are themselves impervious to disease, the tissues and underlying bone that support the implant aren't. If these natural tissues become infected, the secure hold the implant has can weaken and fail.
A gum infection usually begins with dental plaque, a thin biofilm of bacteria and food particles that builds up on tooth surfaces. Certain strains of bacteria within plaque can infect the gums. One particular form of the disease known as peri-implantitis starts as an initial infection and ensuing inflammation of gum tissues around an implant. The disease can quickly spread down to the bone and destroy the integration between the bone and the implant that helps keep the implant in place.
That's why it's important for you to keep the implant and the tissues around it clean of plaque, just as you would the rest of your natural teeth. This requires daily brushing and flossing around the implant and other teeth, and visiting your dentist regularly for more thorough dental cleanings.
You should also be alert to any signs of disease, especially around implants: gum redness, swelling, bleeding or pus formation. Because of the rapidity with which peri-implantitis can spread, you should see your dentist as soon as possible if you notice any of these signs.
Preventing gum disease, and treating it promptly if it occurs, is a key part of implant longevity. Preserving your overall dental health will help make sure your implant doesn't become a loss statistic.
If you would like more information on caring for your dental implants, please contact us or schedule an appointment for a consultation.
By Stoller Dentistry
September 04, 2019
Although adults are more prone to dental disease, children aren't immune from one particular infection, tooth decay. Some children, in fact, are at higher risk for an aggressive form called early childhood caries (ECC).
There are a number of things you can do to help your child avoid this destructive disease, especially daily brushing and flossing to remove bacterial dental plaque, the underlying cause for tooth decay. It's also important for your child to see a dentist regularly for professional dental cleanings and checkups.
But some of their teeth, particularly the back molars, may need some extra attention to fully protect them against decay. This is because larger teeth like molars have numerous pits and crevices along their biting surfaces that can accumulate dental plaque difficult to remove by brushing alone. The added plaque increases the presence of bacteria around the tooth, which increases the risk of decay.
To minimize this possibility, dentists can apply a dental sealant to "smooth out" those pits and crevices in the molars and make it more difficult for plaque to accumulate. This is a quick and painless procedure in which a dentist brushes a liquid plastic resin or similar material onto the teeth's biting surfaces. They then apply a curing light to harden it into a durable coating.
About one-third of children—mostly those considered at higher risk for tooth decay—have undergone sealant treatment. But the American Dental Association and the American Academy of Pediatric Dentistry recommend this preventive measure for all children between ages 5 and 7, and then later between 11 and 14 when additional molars come in. Although there is a moderate cost per tooth for sealant application, it's much less than the potential expense of treating an infected tooth.
Combined with daily oral hygiene and other preventive measures, sealants can reduce the chances of damaging tooth decay. Keeping your child's teeth healthy is an important part in maintaining their dental health today—and tomorrow.
If you would like more information on preventive dental care for children, please contact us or schedule an appointment for a consultation.