My Blog
Posts for tag: mouthguards
By Stoller Dentistry
April 21, 2020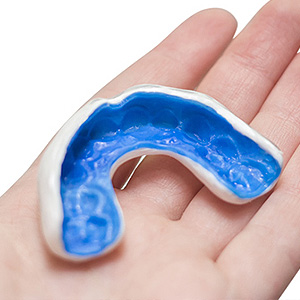 Other than tooth decay, children don't encounter dental disease to the extent adults do. But injuries are another story: More than 5 million teeth are knocked loose each year, and a high percentage involve children. Roughly a third of these and similar children's injuries are sports-related.
April is National Facial Protection Month: Several oral and facial health organizations, including the American Association of Orthodontists, have joined together to raise awareness about the risks of injury to the face and mouth, especially among children. Many of these injuries have long-term consequences with lifetime treatment costs in the thousands of dollars.
But as the name implies, this awareness month is also about protection—what you can do to help your child avoid a costly and devastating dental injury. Top of the list: Have your child wear an athletic mouthguard during all contact sports activities (including practices).
The National Federation of State High School Associations mandates mouthguard wear for football, lacrosse, and ice and field hockey. But those aren't the only sporting activities where a mouthguard should be standard equipment: In fact, basketball has more orofacial injuries each year than any other sport. Generally, mouthguards should be worn for any sports activity that involves potential contact with other players or objects.
There is a variety of mouthguard choices, but most fall into two basic categories, "boil and bite" and custom-made. The former, readily available in retail sports stores, get their name from the procedure employed when first purchased to adjust their fit to an individual player. Out of the package, they should be soaked in hot or boiling water until softened, and then placed in the wearer's mouth to bite down on. After they cool, they'll retain that bite pattern.
Boil and bite guards are relatively inexpensive, but the fit isn't as precise as a mouthguard that is custom-made by a dentist. This can lead to comfort issues—and players are less likely to wear an uncomfortable mouthguard.
Custom mouthguards, on the other hand, have a more accurate fit, allowing them to be thinner and more comfortable. They also provide the highest level of protection against blows to the face and mouth. These are more costly than boil and bite guards, and younger athletes may need a replacement every few years to accommodate jaw growth development. But compared to the physical, emotional and financial cost of a dental injury, custom mouthguards are worth the investment.
A mouth or face injury can happen in an instant and result in damage that can have lingering effects for years. For the best protection, see that your star athlete has and wears a custom mouthguard.
If you would like more information about mouthguard protection, please contact us or schedule a consultation. To learn more, read the Dear Doctor magazine article "Athletic Mouthguards."
By Stoller Dentistry
January 22, 2020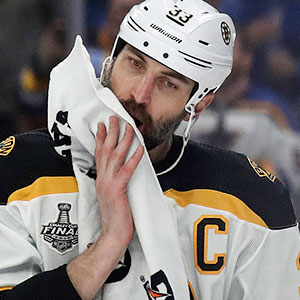 Boston Bruins defenseman Zdeno Chara had a rough Stanley Cup final against the St. Louis Blues this past June. Not only did the Bruins ultimately lose the championship, but Chara took a deflected puck shot to the face in Game Four that broke his jaw.
With the NHL season now over, the 42-year-old Bruins captain continues to mend from his injury that required extensive treatment. His experience highlights how jaw fractures and related dental damage are an unfortunate hazard in hockey—not only for pros like Chara, but also for an estimated half million U.S. amateurs, many in youth leagues.
Ice hockey isn't the only sport with this injury potential: Basketball, football (now gearing up with summer training) and even baseball players are also at risk. That's why appropriate protective gear like helmets and face shields are key to preventing injury.
For any contact sport, that protection should also include a mouthguard to absorb hard contact forces that could damage the mouth, teeth and gums. The best guards (and the most comfortable fit) are custom-made by a dentist based on impressions made of the individual's mouth.
But even with adequate protection, an injury can still happen. Here's what you should do if your child has an injury to their jaw, mouth or teeth.
Recognize signs of a broken jaw. A broken jaw can result in severe pain, swelling, difficulty speaking, numbness in the chin or lower lip or the teeth not seeming to fit together properly. You may also notice bleeding in the mouth, as well as bruising under the tongue or a cut in the ear canal resulting from jawbone movement during the fracture. Get immediate medical attention if you notice any of these signs.
Take quick action for a knocked-out tooth. A tooth knocked completely out of its socket is a severe dental injury. But you may be able to ultimately save the tooth by promptly taking the following steps: (1) find the tooth and pick it up without touching the root end, (2) rinse it off, (3) place it back in its socket with firm pressure, and (4) see a dentist as soon as possible.
Seek dental care. Besides the injuries already mentioned, you should also see a dentist for any moderate to severe trauma to the mouth, teeth and gums. Leading the list: any injury that results in tooth chipping, looseness or movement out of alignment.
Even a top athlete like Zdeno Chara isn't immune to injury. Take steps then to protect your amateur athlete from a dental or facial injury.
If you would like more information about dealing with sports-related dental injuries, please contact us or schedule an appointment for a consultation. To learn more, read the Dear Doctor magazine articles "Athletic Mouthguards" and "The Field-Side Guide to Dental Injuries."
By Stoller Dentistry
January 03, 2018
When you're among the top players in your field, you need every advantage to help you stay competitive: Not just the best equipment, but anything else that relieves pain and stress, and allows you to play better. For top-seeded Canadian tennis player Milos Raonic, that extra help came in a somewhat unexpected form: a custom made mouthguard that he wears on the court and off. "[It helps] to not grind my teeth while I play," said the 25-year-old up-and-coming ace. "It just causes stress and headaches sometimes."
Mouthguards are often worn by athletes engaged in sports that carry the risk of dental injury — such as basketball, football, hockey, and some two dozen others; wearing one is a great way to keep your teeth from being seriously injured. But Raonic's mouthguard isn't primarily for safety; it's actually designed to help him solve the problem of teeth grinding, or bruxism. This habitual behavior causes him to unconsciously tense up his jaw, potentially leading to problems with muscles and teeth.
Bruxism is a common issue that's often caused or aggravated by stress. You don't have to be a world-class athlete to suffer from this condition: Everyday anxieties can have the same effect. The behavior is often worsened when you consume stimulating substances, such as alcohol, tobacco, caffeine, and other drugs.
While bruxism affects thousands of people, some don't even suspect they have it. That's because it may occur at any time — even while you're asleep! The powerful jaw muscles that clench and grind teeth together can wear down tooth enamel, and damage both natural teeth and dental work. They can even cause loose teeth! What's more, a clenching and grinding habit can result in pain, headaches and muscle soreness… which can really put you off your game.
There are several ways to relieve the problem of bruxism. Stress reduction is one approach that works in some cases. When it's not enough, a custom made occlusal guard (also called a night guard or mouthguard) provided by our office can make a big difference. "When I don't sleep with it for a night," Raonic said "I can feel my jaw muscles just tense up the next day. I don't sense myself grinding but I can sort of feel that difference the next day."
 An occlusal guard is made from an exact model of your own mouth. It helps to keep your teeth in better alignment and prevent them from coming into contact, so they can't damage each other. It also protects your jaw joints from being stressed by excessive force. Plus, it's secure and comfortable to wear. "I wear it all the time other than when I'm eating, so I got used to it pretty quickly," said Raonic.
Teeth grinding can be a big problem — whether you put on your game face on the court… or at home. If you would like more information about bruxism, contact us or schedule an appointment for a consultation. You can learn more in the Dear Doctor magazine articles "Stress & Tooth Habits" and "When Children Grind Their Teeth."